Symposium Cafe Restaurant & Lounge is located in Ontario, Canada. It specializes in excellent dishes that you can enjoy at breakfast, lunch, and dinner. To be more exact, they are located in the Cundles& Duckworth Shopping Centre (Shoppers Drug Mart, Cineplex, Zehrs, & L.A. Fitness). It is open every day from early morning to late evening.
Its menu is varied. It offers hamburgers, pasta, salads, sandwiches, vegan, vegetarian, and gluten-free options. Among their drinks, they offer natural juices, coffees, iced tea, and a full bar in liquors. Every day they have special promotions for their most popular meals.
Among its specialties, you can find.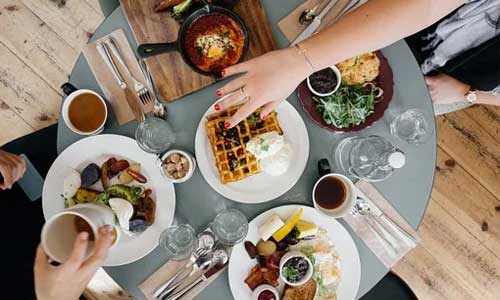 Breakfasts
A complete service with fruit juices, French toast, waffles, and omelets.
Lunch
Until 4 pm, you can enjoy delicious dishes such as hamburgers, pizzas, pasta, and seafood. It has vegan, vegetarian, and gluten-free options.
Dinner
Unique appetizers, steaks, rice bowls, pasta, and seafood.
Beverages
With over 30 martini options, 12 beers on tap, and 34 varieties of red and white wines,you can enjoy any special occasion.
Desserts
Ice cream, crepes, and delicious freshly baked cakes are part of their dessert menu.
If you are looking for a perfect place to offer an executive lunch or dinner, Symposium Cafe Restaurant & Lounge is the best option. Their innovative facility has won several major awards. It has a big outdoor patio where you can enjoy the warm weather.
If you are looking to surprise that special person, this is the right place. Its variety of dishes and unique beverages will make any demanding mouth water.
Some of the best recommendations I can offer you are its Eggs Benedict with bacon and a delicious fresh mango juice. Perfect if you are looking for a substantial breakfast full of flavour that will leave you with a smile on your face for the whole day.
Flatbread with grilled vegetables and ice-tea is an amazing lunch option. Their portions are quite generous and will certainly leave you satisfied. I recommend that you have your lunch on the patio so you can enjoy the weather while you eat.
If you are with a guest, recommend the Pasta Roma. It will make them feel like they are in Italy.
You can't leave without trying dessert. Their delicious ice creams like chocolate and freshly baked cakes like brownies and carrot cakes will make you want to come back the next day.
If you are looking to impress with a good dinner, try the seafood along with a fruit cocktail. This combined with the excellent attention will make you feel like you're on an exotic vacation.
You don't have any more excuses for not having a good time in Symposium Cafe.